Online Master of Social Work (MSW) Program
Download a FREE Brochure
To get yours and learn more about these degrees from the University of Montana's Missoula College, complete the form below.
Online Master of Social Work
The University of Montana's MSW prepares you to support the needs of diverse, at-risk populations.
Succeed in creating change at interpersonal, community and policy levels amidst populations with high rates of diversity and risk. Throughout our social work graduate program, you'll discover how to support the needs and dignity of all people.
Pursuing our online MSW degree helps you build critical thinking skills to engage in multi-level practice and support diverse communities. Our online MSW classes focus on supporting at-risk populations, amplifying social and economic justice, and counseling individuals and families. Our graduate degree in social work exposes you to social policy analysis, program evaluation and organizational leadership.
Students can enroll part-time, and no GRE is required to get started.
The University of Montana's online MSW program gives you a convenient path to a rewarding social work career. The program is open to students without a BSW, and you can complete the flexible online MSW classes on a part-time schedule.
Admissions Details
No GRE/GMAT required
No BSW needed
Transcripts from all schools
Two essay questions related to the social justice mission
Bachelor's degree with a cumulative GPA of 3.0
Transfer Credits
The University of Montana will consider course equivalents for up to 30 elective or MSW coursework credits.
Prepare to Positively Impact Lives
Learn how to successfully create change at the interpersonal, community and policy levels while gaining an understanding of how shifting economic and socio-political conditions affect the diverse and at-risk populations you support.
Our MSW faculty prepare you to create and deliver successful programs and resources for clients and communities. Learn how to develop and analyze policy as you become a research practitioner with a mastery of evidence-based practices.
The resources and services needed to support clients aren't always available in rural communities. So, our online MSW degree program helps you understand the culture and politics of rural communities, enabling you to support them by creating and delivering successful, innovative programs.
Graduate prepared to take the Montana licensed addiction counselor (LAC) exam and meet the educational requirements for the licensed clinical social worker (LCSW) exam.
CSWE-Accredited Curriculum
The CSWE-accredited MSW program focuses on social justice and an integrated practice model that considers social context, so you're prepared to work with individuals and communities with diverse backgrounds. You will study:
Field Experience
Complete 900 practicum hours with a UM field education team that will support you at all stages.
Practice with Groups and Communities
This practice-oriented course focuses on the frameworks, principles and skills required for group and community work.
Human Behavior and Social Environment
Gain perspectives on human behavior influenced by the social environment while focusing on biological, psychological, social, cultural and spiritual influences.
Social Work Research Methods
Delve into statistical approaches of human service research, including evaluating social work practice and using published research.
Prepare for Licensure and In-Demand Social Work Careers
Our CSWE-accredited MSW program gives you the skills to make an impact and view issues through a social justice lens. You'll prepare to advance in a career field projected to grow 9% from 2021 to 2031 — faster than most occupations.1
Careers in Social Work
Healthcare Social Workers: $60,840 per year2
Mental Health and Substance Abuse Social Workers: $49,130 per year2
Child, Family, and School Social Workers: $49,150 per year2
Substance Abuse, Behavioral Disorder and Mental Health Counselors: $49,130 per year3
Financial Aid
We want to help make your online MSW program more affordable. Be sure to fill out the FAFSA as soon as you can — the University of Montana's FAFSA code is 002536. We also encourage you to look into grants, scholarships and employer tuition assistance. Complete the request form to review your options with a knowledgeable Admissions Counselor.
Military Students
The University of Montana participates in the Yellow Ribbon GI Education Enhancement Program, making our online MSW more affordable for active-duty and veteran service members. To learn more about tuition benefits for military personnel and their families, please complete the request form.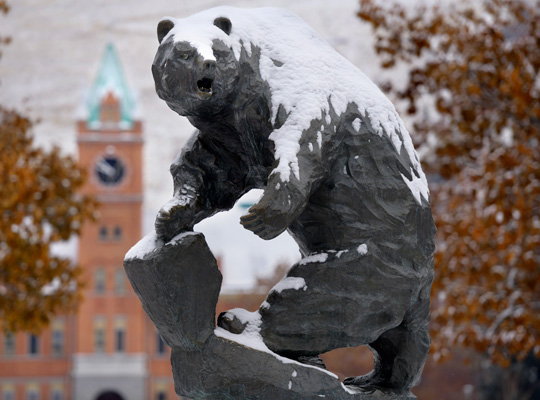 About the University of Montana
Think critically. Live ethically. Explore creatively. Communicate effectively. These are the ideals to which our students, faculty, researchers and staff aspire. We set a high bar for academic studies, creative accomplishments and scientific exploration which benefit our students, our community and the world at large.
Our MSW program educates you to these ideals as they apply to social work. By graduation, you can use your knowledge of research, policy and advocacy to work in diverse social work arenas.
Sources
"Occupational Outlook Handbook: Social Workers." U.S. Bureau of Labor Statistics. Retrieved on March 16, 2022, from https://www.bls.gov.
"Occupational Outlook Handbook: Social Workers (Pay)." U.S. Bureau of Labor Statistics. Retrieved on March 16, 2022, from https://www.bls.gov.
"Occupational Outlook Handbook: Substance Abuse, Behavioral Disorder, and Mental Health Counselors." U.S. Bureau of Labor Statistics. Retrieved on March 16, 2022, from https://www.bls.gov.