Master of Social Work
No GRE/GMAT Required to Apply
Download a FREE Brochure
To get yours and learn more about these degrees from the University of Montana's Missoula College, complete the form below.
Support the needs and dignity of all people. Become an ethical, collaborative practitioner, community leader and researcher who uses critical thinking skills, engages in multi-level practice and understands diversity.
Learn how you can successfully create change at the interpersonal, community and policy levels amidst a shifting economic and socio-political base that includes diverse and at-risk populations.
Prepare to create new or better programs and resources for clients and communities. You'll learn how to develop and analyze policy and become a research practitioner so you can develop successful evidence-based practices.
Sometimes, the resources and services you need to connect clients to don't exist, especially in more rural communities. You'll learn how to create and deliver successful, innovative programs while understanding the culture and politics of a rural community.
In your first year of study, you'll study values, ethics, diversity, at-risk populations, social and economic justice, individual, family and group counseling, human behavior, welfare policy, and research and gain experience in a practicum.
In your second year of study, you'll deepen your knowledge and experience in direct practice, social policy analysis, program evaluation and organizational leadership while you work with a faculty advisor to develop a professional portfolio.
Graduate ready to respond to the complex social, political, cultural and economic contexts of social work in a region that encompasses both rural communities and urban areas to promote the rights of people and create a more humane society.
There's no GRE required to apply, but you will need:
Transcripts from all schools
Two essay questions related to the social justice mission
3.0 GPA
We accept up to 30 credits from MSW or graduate credits in another discipline, as relevant.
Become an Integrated Practitioner
Prepare for a Successful Career
Become a Licensed
Addictions Counselor
Qualify to take Montana's LAC exam
Substance Abuse
Counselor
25% job growth | $46,240/yr.*
Become a Licensed
Clinical Social Worker
Qualify to take the LCSW exam
Clinical Social
Worker
13% job growth | $50,470/yr.*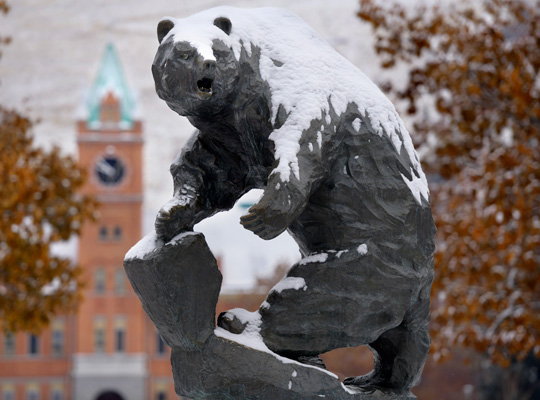 About the University of Montana
Think critically. Live ethically. Explore creatively. Communicate effectively. These are the ideals to which our students, faculty, researchers and staff aspire. We set a high bar for academic studies, creative accomplishments and scientific exploration which benefit our students, our community and the world at large.
Our MSW program educates you to these ideals as they apply to social work. By graduation, you can use your knowledge of research, policy and advocacy to work in diverse social work arenas.
Download a FREE Brochure
Complete this simple form to learn more about how the MSW program prepares you for the complexities of clinical practice.
Request Info Now